Crafts Fair

Introduction

About Crafts

Location Map

General Travel Info

Crafts Fair 2005

Theme State
Fair Ground

Photo Gallery

360° Virtual Tour
Crafts Stalls

Photo Gallery

360° Virtual Tour
Cultural Events

Photo Gallery

360° Virtual Tour
Food Festival

Photo Gallery

360° Virtual Tour

General Links

About Us

Advertise With Us

Recommend Site

Contact Details

Email Us

Our Network

India

Taj Mahal

New Delhi

Vini Infinity InfoTech

Jindal Crafts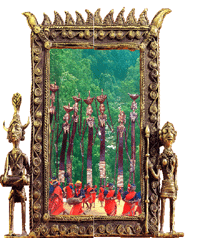 Theme state for 19th Surajkund Crafts Fair 2005 is Chattisgarh. Chhattisgarh, situated in the heart of India, is endowed with a rich cultural heritage and attractive natural diversity. The State is full of ancient monuments, rare wildlife, exquisitely carved temples, Buddhist sites, palaces, water falls, caves, rock paintings and hill plateaus. Most of these sites are untouched and unexplored and offer a unique and alternate experience to tourists compared to traditional destinations which have become overcrowded. Chhattisgarh offers the tourist a Destination with a Difference. For those who are tired of the crowds at major destinations, Bastar, with its unique cultural and ecological identity, will come as a breath of fresh air. The Green State of Chhattisgarh has 44% of its area under forests, and is one of the richest bio-diversity areas in the country.
Eco Tourism
With 12% share of India's forests, Chhattisgarh's 3 National Parks and 11 Wildlife Sanctuaries and National Parks are a major attraction. It has several virgin attractions in protected areas such as Kanger Valley National Park, Barnawapara, Sitanadi, Udanti and Achanakmar Sanctuaries. The endangered Wild Buffalo (Bubalis bubalis) and the even more endangered Hill Myna (Graculis religiosa peninsularis) are the State Animal and State Bird respectively. The State has taken several steps for their preservation. Natural attractions are being promoted with increased local participation and encouragement to herbal gardens and natural health resorts. The mystique of aboriginal tribal ethno-medicine which predates even Ayurveda has been preserved and practised over the millenia. Mainpat (Surguja), Keshkal valley (Kanker), Chaiturgarh (Bilaspur), Bagicha (Jashpur), Kutumbsar caves, Kailash caves, Tirathgarh falls, Chitrakot falls (Bastar) are all exhilarating destinations being promoted for nature and wildlife tourism. Wildlife areas, camping grounds and trekking facilities would be few of the prime attractions.
Culture, Heritage and Ethno Tourism
Chhattisgarh has identified and is developing ethnic villages and private sector is encouraged for proper maintenance and professional site management of important heritage sites/monuments. Bhoramdeo, Rajim, Sirpur, Tala, Malhar and Sheorinarayan are prime sites for heritage tourism. Festivals like Dusshera at Bastar, Madai at Dantewada and Narainpur, Bhoramdeo, Raut Nacha, Chakradhar Samaroh and Rajim are being marketed for global exposure.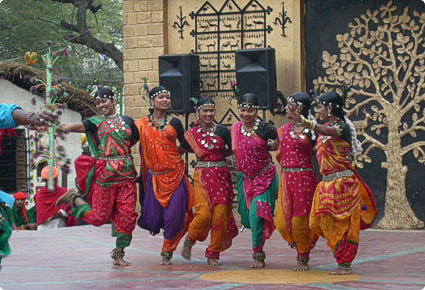 Pilgrim Tourism
The State encourages development of pilgrimage centres. Rajim, Champaranya, Dongargarh, Sheorinarayan, Girodhpuri, Dantewada, Ratanpur, Sirpur and others are prime destinations for pilgrim tourism. Sirpur and Dongargarh would be part of the wider Buddhist tourist circuit.
Adventure Tourism
There is great scope for the promotion of modern adventure sports such as water sports, trekking, rock climbing, parasailing and bungee jumping.
Business and Leisure Tourism
Chhattisgarh encourages investments in establishment of business-cum-recreation centres to cater to the needs of business travellers. State-of-the-art convention centres, seminar halls etc for corporate events are being encouraged. Investments for the entertainment needs of business tourists with high purchasing power, facilities such as hotels, entertainment and amusement parks, multiplexes, health spas, shopping malls and golf courses are being encouraged.
SubscribeNewsletter